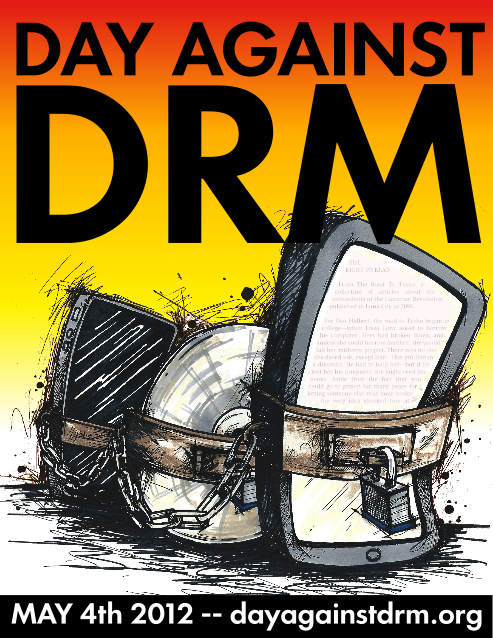 Today, 4 May, is a Day Against DRM, digital rights management. DRM is a technology imposed on published materials to keep you locked into one specified device or one particular use. The idea is to make something scarce, limited, and controlled by the industry. This means I can only "use" something like a book or DVD or music under their rules.
The problem is that my life isn't arranged or prioritized under rules that promote an over-reaching industry. If I buy a book on my phone but later find that I want to read it on a tablet, I don't personally want to buy a second copy for that purpose. I want to device-shift, or time-shift (view when I wish), or browser-shift, or use the content I purchase in ways that enrich my life without becoming a criminal in the process.
As author Cory Doctorow points out,
Your browser "converts" all sorts of graphic formats — GIF, JPEG, PNG, etc — without ever calling your attention to it. You need to take some rather extraordinary steps to find out which format of the graphics on your screen right now are using. Unless you're a web developer, you probably don't even know what the different formats are, nor what their technical differences are. And you don't need to.
Here's a list of DRM-free resources at the Defective by Design site. Happy Day Against DRM!
Close
Bookmark and Share This Page
Copy HTML:
If you like this then please subscribe to the
RSS Feed
.
records, tools Copyright law, Cory Doctorow, Defective by Design, Digital rights management, DRM, Entertainment/Culture, Graphics file formats, Image file formats, shifting, Technology/Internet